Now it may all sound like the usual "good ol days stories," but every Nigerian football fan in the 70s and 80s knew how exciting the Nigeria League was. Whether you believe it or not, Nigeria league was once a bubbling showpiece with intense rivalry among the teams.
For Millenials and Gen Z , it's nothing like you've experienced before. The feeling is much more than watching EPL or La liga games at a viewing center or sports bar like we do nowadays.

Back then, there were only a few people with satellite/Cable television in their homes, so watching European games weren't popular at all. Viewing centers were non-existent, and the only to watch maybe a Liverpool vs sheffield Wednesday game is by peeping through a richman's window .So, there weren't much options for football fans, fans just had to go to the stadium to watch matches.

The Nigerian league had all the stars (Segun Odegbami, Muda Lawal …you name it) The opportunity to transfer players from Nigeria to Europe weren't really available then, so no player was thinking of going to play abroad.
So here are 8 things we miss about Old school Nigerian Football
Old rivalry: IICC Shooting Stars Vs Enugu Rangers
This old rivalry between IICC Shooting Stars (Now 3sc) was something else. It was more than football. It was the 'Battle of the Tribes' and this kind of fixture usually gets every fan charged up. The stadium gets filled to the brim before 12 noon for a match that will kick off by 4pm… With fans chanting, ranting and taunting the opposing teams.
You can't find such rivalry in any of the Nigeria league today. The enthusiasm of fans are long gone, the fire of the league have long been extinguished.

The Stars played here
Fans go to matches because of the very popular stars: Segun Odegbami, Muda lawal, Best Ogiedgbe, Emmanuel Okalla, Christian Chukwu, Ogidi Ibewuchi… Stephen Keshi, Henry Nwosu, Bright Omokato, Sunday Eboigbe, Peter Rufai, Rasheed Yekini…all the stars were here and the quality of the games were very high.

Today, there are no real stars in Nigeria league anymore. Any player found performing well is transferred abroad the next day and this has greatly lowered the quality of the games in Nigeria league.

The Supporters
The Stadium atmosphere were always electrified by mammoth crowd that show up in most league games. Teams like IICC, Rangers, Mighty Jet, and Stationery Stores had a lot of supporters following them. Supporters of Stationery stores of Lagos even follow the team to away games… all packed in their Molue Buses
Nowadays, reverse is the case. The stadiums are almost empty in most Nigerian league games.

Radio commentary
Back then, you had to go to the stadium with your transistor radio set to listen to commentaries from professionals like Ernest Okonkwo. His commentaries added so much pep to the game with the way he describes and narrate the game.

Presently, the Nigeria league doesn't even get TV coverage.
Match of Week on NTA
Wednesday night was a time fans get glued to their TV set to watch the Match of the week on NTA network. Highlights of games played during the last weekend were broadcasted and the match of the week is played back Full

Match of the week became so popular that it was on television for over two decades with viewership estimated average of 30 million viewers every week.

Fans have completely lost interest in the League nowadays, with viewership beig on a steady decline over the years. Even Supersport had to cancel a $40million deal to show NPFL matches

Media Hype and Town criers
Back then, radio jingles advertised upcoming league matched and town criers drive around town in their vehicles, hyping the match as well as persuading fans to attend

Fairy tales behind football stars and games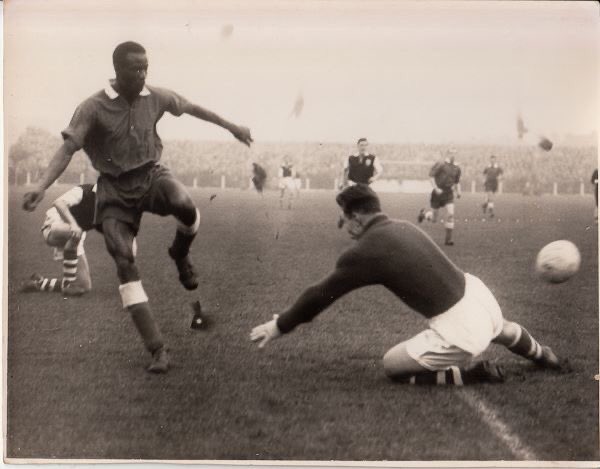 The fairy tales drew more fans into the stadium in those days. How Teslim "Thunder" Balogun's shot pierced through a player's stomach and broke through the net. How Emmanuel Okalla saw 100 balls coming to him and didn't know the one to catch at Liberty stadium in Ibadan. Those kind of stories drew interest to the league. You've probably heard about Samuel oparaji Vs India 99-1 match too.
Talk of the town
Today, it is all about the English Premier League (EPL), La liga and other European leagues. Nigerian TV and radio sport shows spend more time talking about European leagues than the domestic leagues unlike before, when it was all about Rangers, Enyimba, , Racker Rovers, Calabar Rovers.
Culled from Cheeronnigeria and edited for 3sc